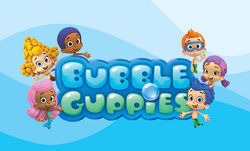 Characters
Edit
There are many characters in Bubble Guppies. Some new characters are introduced in an episode but never seen again. The nine main characters are the only characters to appear in every episode.
Main Characters
Edit
Current Poll

Who's Your Favorite Character?
Ad blocker interference detected!
Wikia is a free-to-use site that makes money from advertising. We have a modified experience for viewers using ad blockers

Wikia is not accessible if you've made further modifications. Remove the custom ad blocker rule(s) and the page will load as expected.